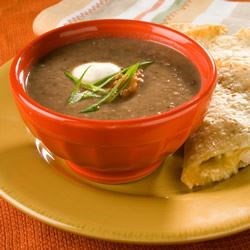 Like the
Pineapple Chicken
recipe, this is great because there is no prep work and all the ingredients are easy to store in your pantry until you need a quick meal. When you buy the salsa, I recommend that you look at the label to find one without High Fructose Corn Syrup.
On occasion, we've added crunched tortilla chips on top or even eaten it a little like a bean dip.
Black Bean and Salsa Soup

Servings: 4
Total Cost: $4
Reheat Factor: 5/5 - Just as good the next day!
Freezer Factor: 4/5 - But the recipe is so fast to make, I don't recommend it.
Ingredients

(3 Not in
Pantry
)
2 (15 ounce) cans black beans, drained and rinsed
1 1/2 cups vegetable broth
1 cup chunky salsa
1 teaspoon ground cumin
4 tablespoons sour cream
2 tablespoons thinly sliced green onion (optional)

1. In a food processor or blender, combine beans, broth, salsa, and cumin.
2. Blend until fairly smooth.
3. Heat the bean mixture in a saucepan over medium heat until thoroughly heated.
4. Ladle soup into bowls, and top each bowl with 1 tablespoon of the sour cream (and 1/2 tablespoon green onion if you have them.)